Michael W Peet – MD
Mike had years of experience in blue chip companies before passing through a corporate MBA scheme then setting up his own consultancy firm in 1999.
After working within the fire sector for several years Mike set up Firecomply as a new specialist fire safety consultancy just weeks before the global financial crisis and UK recession took hold in 2007. He steered it through that difficult time and came out stronger. Mike was at the forefront in developing clients from City of London blue chip organisations down to the tiny village hall and across a variety of sectors in social housing, education, commercial offices and industrial sites. He also developed the services beyond basic fire risk assessments to cover specialist fire engineering projects and expert witness service.
John L O'Leary – Director
John joined the board in 2012 following a successful career as a fire officer with London Fire Brigade and then Staffordshire Fire & Rescue Service.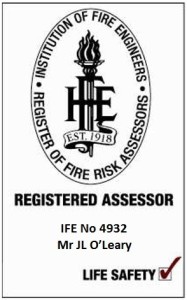 John has a BEng(Hons) in Fire Engineering, helped draft the current guidance supporting the Regulatory Reform (Fire Safety Order) 2005 and is a Fellow of the Institution of Fire Engineers.
He is one of a handful of people on the IFE Register of (Life Safety) Fire Risk Assessors.
In order to provide our clients with the highest standard of service we only employ former fire service officers with the correct qualifications and experience. We have a great team across the UK and can offer specialist fire safety help at almost any level. We appreciate that you know your business best so our expertise and down-to-earth approach means we will work directly with you to identify the lowest "total cost" compliant fire safety solution for you!
Want to work for us?
We're always interested in hearing from former fire service officers who meet our high standards, as follows:
Former fire service officer with a minimum of 10 years' service
Fire safety/enforcement experience
Training through the Fire Service College at Morton-in-Marsh
Competent Microsoft Office skill level (Excel and Word)
Excellent interpersonal skills and a smart and presentable appearance;
The appropriate level of professional indemnity and public liability insurance
Membership of an independent professional accreditation body**
Valid UK driving licence and a roadworthy vehicle with valid insurance and MOT (if applicable).
If you meet the majority of these criteria, you should register interest without delay and send through your CV to us.
We are an equal opportunities organisation.
**We are currently striving to get all of our people third party accredited. Some already are accredited but we are working with the rest to make that 100%.
Vacancies
As a proactive and progressive company we are always involved in continuous tendering and business development initiatives. Therefore we're always interested in hearing from suitably qualified fire officers from all areas of the UK for opportunities that may arise in the future.
If you're planning to leave the Fire Service in the next few years we would be very happy to talk to you now so that we can all plan ahead to a successful future. If you have the qualifications but no commercial experience we would still like to talk to you.